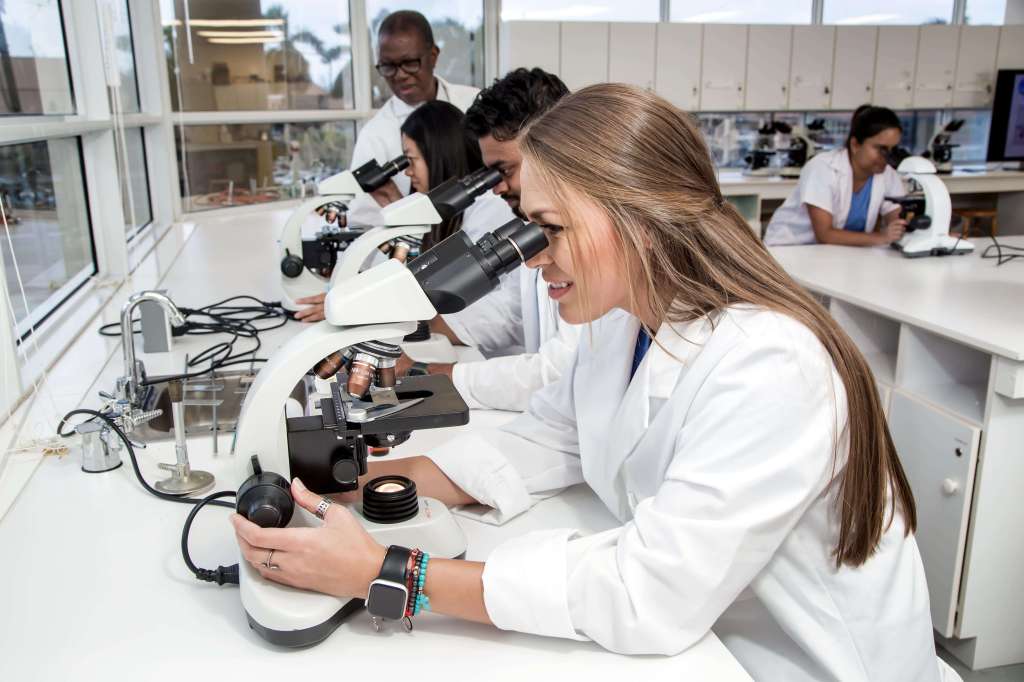 St. Matthew's Veterinary Facilities
Our facilities go beyond being mere spaces; they act as catalysts for your growth and success. We provide an environment that nurtures your potential, with cutting-edge classrooms that fuel intellectual discourse and advanced laboratories that stimulate curiosity. And, when you need a break from your studies, it doesn't hurt that our campus is right across the street from the famed Seven Mile Beach. Here are the main facilities on our campus.
Clinical Teaching Facility (CTF)
Our veterinary students have the opportunity to utilize a state-of-the-art Clinical Teaching Facility. This facility serves as a bridge between theoretical knowledge and practical experience, helping to mold the outstanding healthcare professionals of the future. With its carefully crafted design, the facility offers students an immersive environment that closely resembles real-world clinical settings.
Classrooms
The classrooms at St. Matthew's University are specifically designed to facilitate close interaction between instructors and students in small groups. Students have the convenience of extended access to their classrooms, as well as easy access to all the digital tools they need. Every classroom is equipped with a high-speed network connection at each seat, comprehensive Wi-Fi coverage, and high-definition video capabilities. Lectures and other instructional activities are recorded, so students can review the material at any time. Students can even search the videos for key phrases to expedite the study of particular concepts.
Library
Our library offers a variety of spaces for different study preferences. We have designated areas for quiet study, group discussions, and even group study rooms. You'll have access to Wi-Fi across the entire campus, and we provide desktop computers and printers in the library for your convenience. Students have access to a wide range of resources including textbooks, databases, clinical knowledge-bases, and eJournals. Whether you're in need of textbooks, researching papers, or simply looking for a peaceful place to study, our library is dedicated to providing you with the information and support you need to expand your knowledge.
Mindfulness Room
At St. Matthew's University, we prioritize wellness. Our dedicated mindfulness room offers a serene environment where you can find tranquility and enhance your mental well-being. Designed specifically for moments of calm and meditation, this space provides a sanctuary where you can escape the pressures of academic life.
Basketball Court
You can stay active, unwind, and build connections with fellow students by engaging in friendly games and invigorating workouts on our basketball court.
Immigration Office
Our immigration office assists you with navigating visas, permits, and related matters, ensuring a smooth transition. We do the work for you, so you can focus on your studies.
Housing Office
Our housing office works with students to find comfortable and affordable housing accommodations that are close to campus, Camana Bay and the beach.