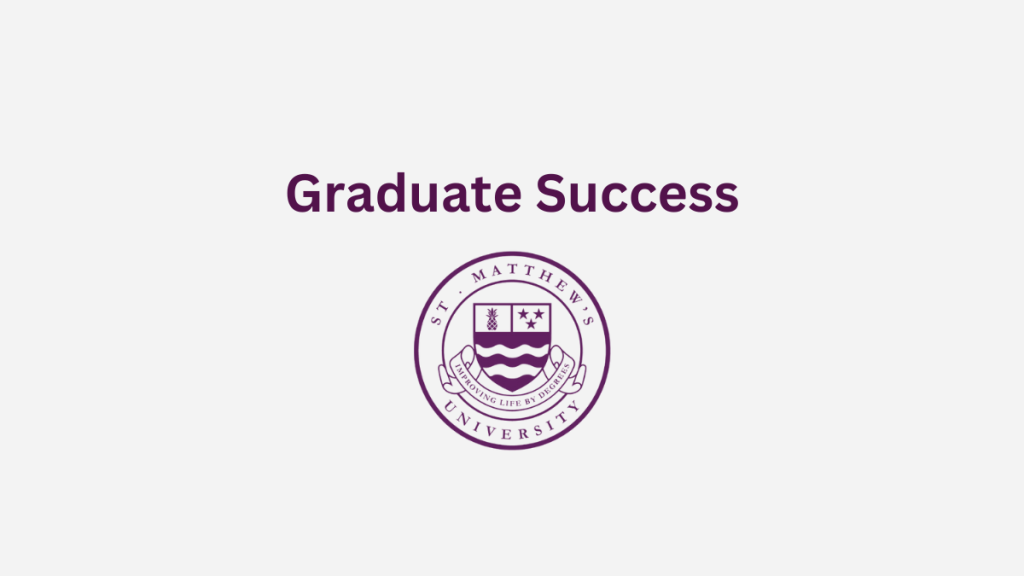 Sarah Wilson
Read the full testimonial of SMUSVM alumni Dr. Sarah Wilson, BScH, DVM, who shared her experience at St. Matthew's University.
Sarah Wilson, BScH, DVM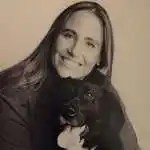 "I know that St. Matthew's University played a major role in my success, and would recommend others take the first step towards their ultimate goals!"
Being a veterinarian was a lifelong dream of mine, and I took steps my entire educational career to fulfill that dream. St Matthew's University (SMUSVM) allowed me to reach that ultimate goal, and I will forever be thankful for the opportunity and education attained at SMUSVM!
As long as I can remember I always wanted to be a veterinarian, and I did anything I could to be around animals. We had dogs, cats, and birds growing up, I took horseback riding lessons, and I volunteered at animal shelters when I could. My official start within the veterinary industry was during my university summers working as a veterinary assistant at a pet hospital in Ottawa, Canada while I finished my honours major in Animal Biology at the University of Guelph. After finishing my degree in 2003, I worked at a conservation safari park in Hamilton, Canada as an animal care attendant. I worked around a wide array of animals including lions, tigers, giraffes, nilgai, and rhinoceros to name a few, but soon realized I wanted more clinical, hands on experience. I returned to the University of Guelph and became a registered veterinary technician, which allowed me to gain technical and clinical experience in small animal practice over the next two years at a veterinary clinic in downtown Guelph, Canada. After two years as a technician, I realized that my dream of being a veterinarian still needed to be achieved, and after a Carnival Cruise with my cousin, I came across SMU. I scheduled a visit with faculty and a senior veterinary student while on shore leave, and realized that SMU and a career as a veterinarian was in my future.
While at SMUSVM from 2010-2012, I was deeply involved in school activities as well as academic teaching positions. I really appreciated that SMUSVM had clubs with extra-curricular activities to augment learning while on the Island. I participated in many clubs typical of a veterinary school in North America: Food Animal Club, Student Chapter of the American Association of Equine Practitioners, Student Chapter of the American Veterinary Society of Animal Behavior, Student Veterinary Emergency and Critical Care Society Chapter, Student Chapter of the American Academy of Veterinary Nutrition, and the Zoological, Exotics & Wildlife Medicine Club. These clubs offered multiple wet labs and hands on opportunities either at SMUSVM's animal care facility, local horse and cattle farms, Cayman Turtle Centre, or with local rescue groups. I participated as an officer in many clubs, but an additional benefit to obtaining my veterinary degree at SMUSVM was the location. Due to the island's reefs and ample marine life, I was able to extensively participate in the Marine Research Club, which allowed us opportunities to perform research dives monitoring local coral and marine life in the area. I was able to work with the Department of the Environment of the Cayman Islands to organize a lionfish culling certification for all our members and interested locals, and we regularly participated in beach clean ups, lionfish culls, and fishing line clean up dives. This ability to participate with the locals and improve the magnificent Caribbean environment set SMUSVM apart. Another incredible opportunity afforded to myself, as well as many SMUSVM students, was the ability to participate in the Marine Veterinary Medicine Workshop (MARVET). This is a yearly workshop offered to a small group of veterinary students interested in marine medicine. SMU students can volunteer to help with the workshop and are able to participate in some of the wet labs where you may learn how to draw blood from a turtle or anesthetize a fish. Academically, I found SMUSVM professors to be genuinely interested in each students' success. They provided teaching assistants (TA) for students who needed help with the material, and offered teaching assistant positions for students who excelled and needed financial aid. I participated as a virology TA, parasitology TA, and an anatomy TA, which helped solidify my knowledge and help with finances. Other opportunities to help pay for school were also available, and during my time at SMUSVM I was awarded the Pfizer Animal Health Scholarship.
One of the draws of SMUSVM was the ability to attend either American or Canadian veterinary schools during your clinical year. After two years and four months in paradise (Grand Cayman), I returned to Canada for my clinical year in 2013 and attended the Western College of Veterinary Medicine (WCVM) in Saskatoon, Saskatchewan. After my clinical year, I was offered a small animal rotating internship at WCVM in 2014 and really enjoyed both dermatology and internal medicine rotations. After completing my internship at WCVM I continued as a clinical associate at WCVM working with the internal medicine department, helping train incoming interns and senior veterinary students. In August 2015, I started a residency in Small Animal Clinical Nutrition at the University of California – Davis, where I studied and worked for two years in the Nutrition Support Service. As a resident at UC Davis I had the opportunity to work with many patients including oncology, neurology, cardiology, dentistry, internal medicine, and dialysis patients. I managed critical cases with parenteral or enteral nutrition as well as consulted with veterinarians around the world on their complex patients' nutritional needs. I also helped teach veterinary students in every year, and completed a research project which will be published in the Journal of the American Veterinary Medical Association. Upon completion of my board examination in June 2018, I hope to join colleagues as a diplomate of the American College of Veterinary Nutrition, and bring clinical nutrition to the forefront of caring for hospitalized and healthy pets. I've truly enjoyed every step of my career thus far, and am excited for what the future holds. I know that St. Matthew's University played a major role in my success, and would recommend others take the first step towards their ultimate goals!